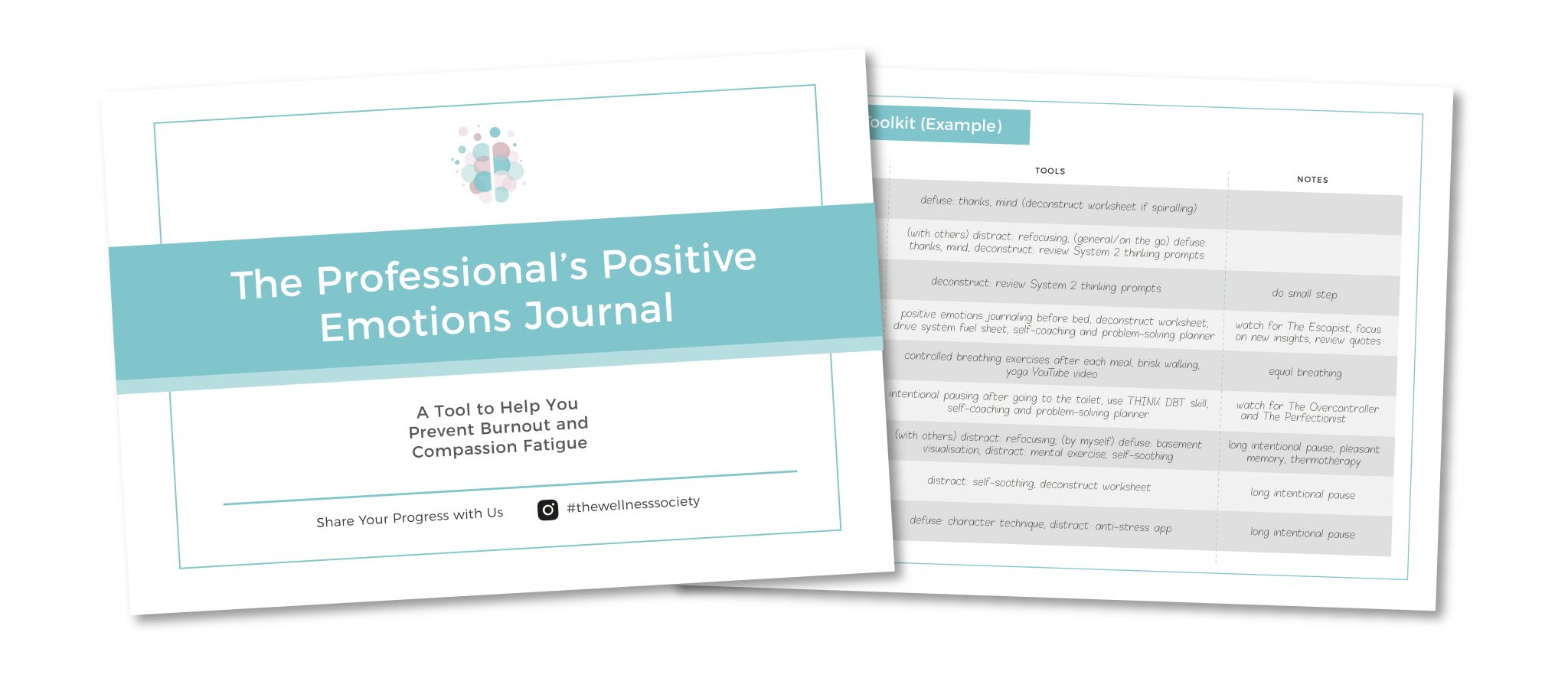 Are you a private practice therapist or coach looking for high quality resources?

Stand out from the crowd and help clients create long-lasting change with The Professional's Mental Wellbeing Toolkit.
Integrative Psychoeducation
An integrative framework combining insights from a wide range of approaches
Beautifully Designed
Features a soothing colour scheme making clients feel more at ease straight away
Accessible
Comprehensive yet concise content suitable for low motivation and energy
Acquire a Library of Practical Tools to Help Make Your Job Easier
Expand your practice with a wide range of evidence-based resources and help your clients feel better, sooner.
With growing public awareness of the mind-body connection, this is a tool for forward-thinking coaches to differentiate themselves in the marketplace.
Effectively address a wide variety of client goals and needs with tools covering:
Cognitive behavioural therapy (CBT)
Dialectical behavioural therapy (DBT)
Mindfulness-based cognitive therapy (MBCT)
Acceptance and commitment therapy (ACT)
Positive psychology
Problem solving therapy
Behavioural activation (BA)
Non-violent communication (NVC)
Lifestyle medicine and more!
Most self-help is limited in that it only addresses one mental health concern, e.g., stress, anxiety or depression.
Our holistic, non-labelling, trauma-informed approach addresses the root causes of these co-occurring problems.
Go Above and Beyond Conventional Practice
Our customer research found that the most common criticism of therapy is that it doesn't equip people with enough practical tools.
By investing in The Professional's Mental Wellbeing Toolkit, you'll empower clients with a wide range of practical resources.
You'll also receive guidance on which tools to use for different client goals – as you'll see in the sample below.
In addition, this investment gives you the freedom to create a 1:1 Mental Wellbeing Coaching Package supporting people through five steps to improving their mental wellness. Become a licensed provider and use our evidence-based framework to help clients improve their mental health and wellbeing.
Invest in Your Wellbeing
At the same time as investing in your clients, you're making an important investment in yourself.
The Professional's Mental Wellbeing Toolkit also contains a professional edition of The Positive Emotions Journal – use 57 journal prompts designed to help you prevent compassion fatigue and burnout.
Free Lifetime Updates
One-off payment, lifetime access.
Receive all future editions of The Professional's Mental Wellbeing Toolkit direct to your inbox.
Use and re-use the tools with an unlimited number of clients for the one-off fee.
---
---
What's Included
Welcome Pack Document
A branded document featuring the following quote to include in your client welcome pack: "As a licensed provider of the Mental Wellbeing Toolkit, I have access to a wide range of practical tools designed to support you with your mental health and wellbeing. With your permission, I'll introduce you to tools and resources that I believe are relevant to your goals and needs."
Licensed Provider Graphics
A set of images for your website, Instagram and email signature to advertise your status as a licensed provider of The Mental Wellbeing Toolkit to potential clients.
Stand out from the crowd and easily demonstrate the additional value you offer.
Wheel of Life Worksheets
Support clients to clarify their goals with this popular coaching tool providing a visual representation of your client's current reality vs. desired reality.
The Thinking Slow Method
Outlines a 3-step system for reducing overthinking, managing challenging emotions and coping with uncomfortable physical sensations.
Covers a wide range of coping skills including mindfulness, cognitive defusion, cognitive distraction and cognitive restructuring.
Provides a framework for tuning into, processing and communicating feelings and needs – supporting your clients to improve their assertiveness skills.
The Lasting Habits System
Use a science-based system to help clients create change that lasts – an important missing ingredient in the majority of self-help.
Outlines specific, evidence-based habits for improving mental wellbeing with a set of tools for different goals and needs.
The Positive Emotions Journal
A positive psychology-based intervention designed to support your clients (and you!) to cultivate joy, hope, gratitude and more.
Contains prompts to reinforce key psychoeducation from the rest of the toolkit, helping your clients create positive change that sticks.
The Professional's Positive Emotions Journal
Invest in your own mental wellbeing with this practical, easy to use tool designed helping you prevent compassion fatigue and burnout.
The Better Sleep Planner
A comprehensive yet concise guide containing numerous practical and effective sleep hygiene tips – ideal for client homework.
Clients review 31 suggested steps and choose the ones that resonate with them to create their personalised Better Sleep Plan.
The Self-Coaching and Problem-Solving Planner
Empower your clients with a non-overwhelming tool for tackling life's problems.
Give as homework to build upon what was discussed in session or as a tool to encourage clients to start making steps between therapy and independence.
Phone Reminders
Numerous images for clients to store on their phone so they have quick and easy access to key information that helps them reinforce their learning and develop their mental wellbeing skills on the go.
Progress Trackers
A4 and A5 mood and anxiety trackers to allow clients to monitor their progress.
Space to add notes to record insights into what's positively and negatively impacting their mental wellbeing.
Bonuses
Client Management Sheets
Stay on top of paperwork and reduce overwhelm with the client management sheets.
The included fillable format allows you to type directly into it from your computer and save for continued use.
Features client information sheet and session/coaching notes sheets.
Black and white and colour formats as well as standard PDF (non-editable) file included.
A4 & A5 Session Reflections Worksheets
Ideal to provide clients with at the start of your work together. Space to write down: Topics discussed; my reflections; how I'm feeling; and key insight.
Features challenging and positive emotions wheels to help your clients tune into and process their feelings.
Printables Bundle
Update your office space with inspirational and soothing messages.
Receive the below six prints in JPEG format in the following sizes:

16x20 inches (4:5 ratio for printing 4x5inc / 8x10inc / 40x50cm / 16x20inc)
18x24 inches (3:4 ratio for printing 6x8inc / 9x12inc / 12x16inc / 30x40cm / 18x24inc)
20x30 inches (2:3 ratio for printing 8x12inc / 10x15cm / 20x30cm / 30x45cm / 50x75cm / 20x30inc)
A2 (international paper size for printing A5 / A4 / A3 / A2)
Delivery
Download links (PDF, JPG and PNG files) for The Professional's Mental Wellbeing Toolkit plus bonuses will be available immediately upon purchase. Download links will also be emailed to you.
Receive all future editions of The Professional's Mental Wellbeing Toolkit direct to your inbox.
Important Note
This product is for private practice therapists and coaches. If you represent an organisation, please
contact us for a bespoke quote
.