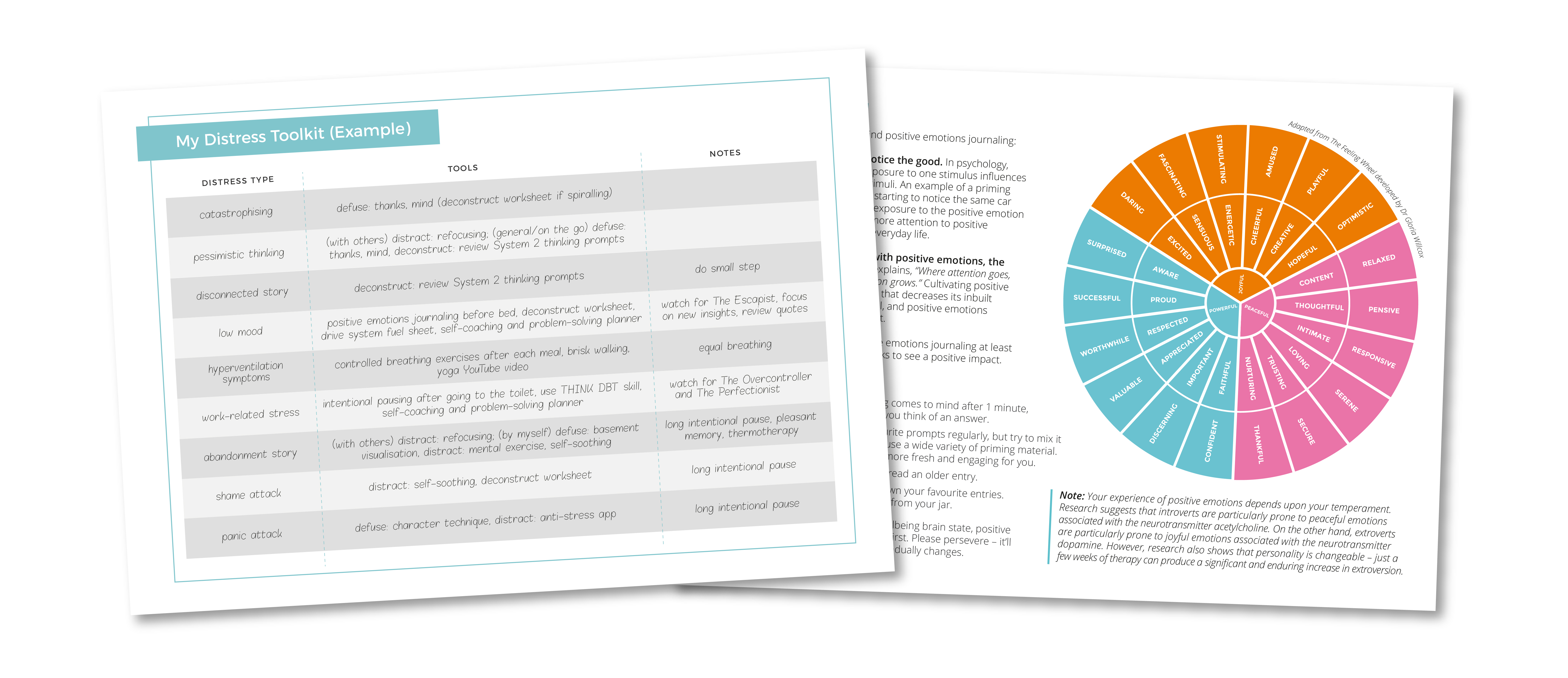 Does this sound like you?
"I'm fed up of overthinking – it's exhausting."
"No matter how much I try, my mind keeps ticking back to negative thoughts and I can't stand it!"
"I want to be able to manage my intense emotions."
"I don't want a plaster that covers my symptoms – I want to address the root causes of my issues."
"I'm done with hearing the same old self-help advice – I'm looking for new insights and solid, practical tools."
"I find it hard to be consistent – I want to create change that lasts."
If so, The Mental Wellbeing Toolkit is for you!
This tool can help you:
Address Root Causes
Go deeper and discover insights far beyond "reframe your thinking" – address root causes and feel better, sooner
Feel Empowered and Inspired
Comprehensive yet concise, fluff-free content suitable for low motivation and energy
Create Change That Lasts
An abundance of tools and systems for reinforcing your learning and creating
long-lasting change
What Is It?
The Mental Wellbeing Toolkit is a comprehensive set of practical tools designed to help you improve your mental (and physical!) wellbeing.
Work through five core tools and then personalise your toolkit with additional materials relevant to your goals and needs.
Tools include:
Workbooks and worksheets guiding you through evidence-based self-help techniques
Flashcards for learning key information relating to your personal mental health difficulties
Images to store on your phone to help you reinforce your learning and apply your mental wellbeing skills on the go
All materials are digital (PDF, JPG and PNG files) meaning that you're able to print and re-use your tools as many times as you like.
Save Time and Money – No Need to Read Dozens of Books!
The Mental Wellbeing Toolkit uses an integrative framework combining valuable insights from:
Cognitive behavioural therapy (CBT)
Dialectical behavioural therapy (DBT)
Mindfulness-based cognitive therapy (MBCT)
Acceptance and commitment therapy (ACT)
Positive psychology
Problem solving therapy
Behavioural activation (BA)
Non-violent communication (NVC)
Lifestyle medicine and more!

Most self-help is limited in that it only addresses one mental health concern, e.g., stress, anxiety or depression.

Our holistic approach sees past labels and gets to the root causes of these issues, helping you:



Reduce overthinking (what psychologists refer to as "rumination")
Manage intense emotions
Reduce stress, anxiety and panic attacks
Boost mood and energy
Work through your problems




Accelerate Your Progress in Therapy

Our customer research found that the most common criticism of therapy is that it doesn't equip people with enough practical tools.

Look no further!

Invest in a wide range of evidence-based, easy to use tools and start making steps between therapy and independence today.




Free Lifetime Updates

One-off payment, lifetime access.

Receive all future editions of The Mental Wellbeing Toolkit direct to your inbox.
---
---
What's Included
The Thinking Slow Method
Learn a 3-step system for reducing overthinking, managing challenging emotions and coping with uncomfortable physical sensations.
Covers a wide range of coping skills including mindfulness, cognitive defusion, cognitive distraction and cognitive restructuring.
Learn how to tune into, process and communicate your feelings and needs – improving your assertiveness skills.
The Lasting Habits System
Use a science-based system to create change that lasts – an important missing ingredient from the majority of self-help resources.
Learn specific, evidence-based habits for improving mental wellbeing.
Personalise your toolkit with materials relevant to your goals and needs.
The Positive Emotions Journal
Happiness is a skill, and positive emotions journaling can help you get better at it!
298 prompts keep the activity fresh and engaging for you – you'll never lack inspiration!
Includes prompts to reinforce your learning from the rest of the toolkit – an important element for creating long-lasting change.
The Better Sleep Planner
A comprehensive yet concise guide containing numerous practical and effective sleep hygiene tips.
Review 31 suggested steps and choose the ones that resonate with you to create your personalised Better Sleep Plan.
The Self-Coaching and Problem-Solving Planner
An easy to use tool to help you work through your current problems and set new life goals.
Trains you to keep your focus small so you feel inspired and motivated – not overwhelmed.
Discover techniques used by trained coaches and create crystal clear goals that excite and inspire you.
Phone Reminders
Numerous images to store on your phone so you have quick and easy access to key information that helps you reinforce your learning and develop your mental wellbeing skills on the go.
Progress Trackers
A4 and A5 mood and anxiety trackers so you can monitor your progress in improving your mental wellbeing.
Space to add notes to record your insights into what's positively and negatively impacting your mood and anxiety.
Bonuses
A4 & A5 Covers and Dividers
Personalise your toolkit with your favourite motivational and inspirational quotes.
A4 & A5 Session Reflections Worksheets
Handy reflections worksheets with space to write down: Topics discussed; my reflections; how I'm feeling; and key insight. Use after therapy or coaching sessions to help accelerate your progress.
Features challenging and positive emotions wheels which help you tune into and process your feelings.
A5 Set Up Guide and Inserts
Fancy storing your toolkit in an attractive A5 planner?
Various A5 inserts are included plus an A5 planner set up guide.
Printables Bundle
Update your space with inspirational and soothing messages.
Receive the below six prints in JPEG format in the following sizes:

16x20 inches (4:5 ratio for printing 4x5inc / 8x10inc / 40x50cm / 16x20inc)
18x24 inches (3:4 ratio for printing 6x8inc / 9x12inc / 12x16inc / 30x40cm / 18x24inc)
20x30 inches (2:3 ratio for printing 8x12inc / 10x15cm / 20x30cm / 30x45cm / 50x75cm / 20x30inc)
A2 (international paper size for printing A5 / A4 / A3 / A2)
Delivery
Download links (PDF, JPG and PNG files) for The Mental Wellbeing Toolkit plus bonuses will be available immediately upon purchase. Download links will also be emailed to you.
Receive all future editions of The Mental Wellbeing Toolkit direct to your inbox.
Best Value: The Mental Wellbeing Toolkit Plus Bonuses
Buy Steps Individually
Each step includes mood and anxiety progress trackers, the relevant phone reminders, and free lifetime updates.