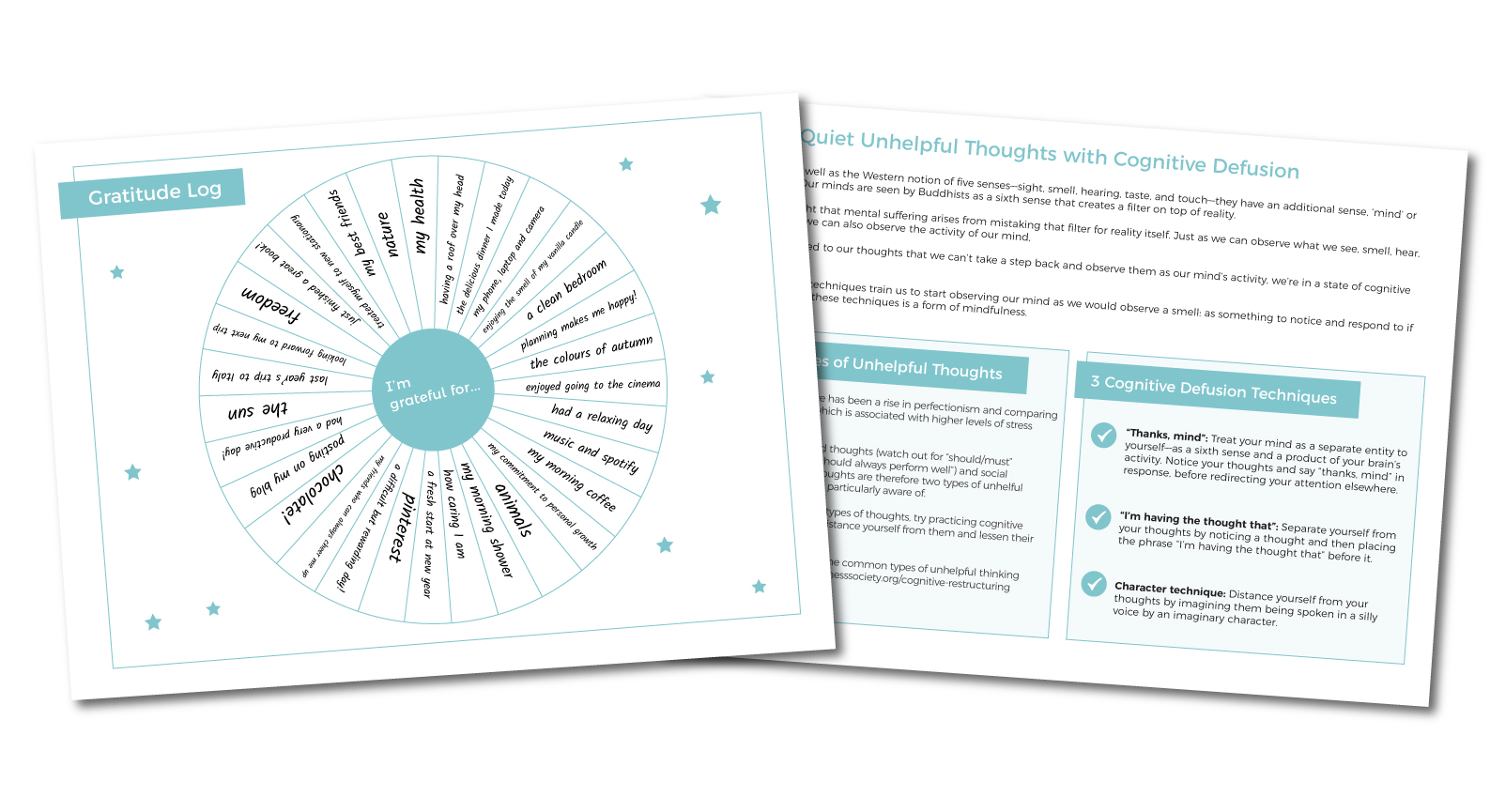 Are you feeling a little lost, uncertain or uninspired by life?

Is this starting to impact your mood and energy levels?

If so, The Happiness and Mindful Living Planner can help.


Cultivate Mindfulness Skills
Discover tools and techniques to help you become more mindful
Boost Mood and Energy Levels
Develop a range of mental wellbeing skills to help you feel better and brighter
Gain Clarity and Direction
Discover powerful exercises to help you get clear on your life direction and purpose
Save Time and Money – No Need to Read Dozens of Books!
We've done all the research so you don't have to.
Different things work at different times for different people. That's why all our tools use an integrative approach.
Discover the very best tools from:
Cognitive behavioural therapy (CBT)
Mindfulness-based cognitive therapy (MBCT)
Acceptance and commitment therapy (ACT)
Behavioural activation (BA)
Lifestyle medicine
Positive psychology
Buddhist philosophy
Contents
Part One: Cultivating Mindful Living Skills
Escaping Autopilot Mode
Learn which brain areas are associated with living on autopilot vs living mindfully. Discover the keys to becoming more mindful.
Activity Scheduling and Optimisation
Understand the low mood, low energy, low motivation cycle. Learn how to hijack this cycle using activity scheduling and optimisation.
Indoor and Outdoor Activities to Test
Plan which activities to try at home and be inspired by our list of over 100 ideas.
Activity Log
Log the impact activities have on your mood, engagement and energy levels and discover what brings you the most joy.
Indoor and Outdoor Nourishing Activities List
Make note of your favourite activities so that you can make more room for them in your life.
Body Scan Meditation
Learn the benefits of the body scan meditation practice. Discover our top three recommended (free) tools for practicing body scan meditation.
Cultivating Mindful Eating Skills
Learn the key differences between autopilot eating and mindful eating. Discover an enjoyable exercise to help your cultivate your mindful eating skills.
Reducing Stress Eating with The LOATS Method
Learn a powerful mindfulness-based technique for curbing stress eating impulses.
How to Quiet Unhelpful Thoughts with Cognitive Defusion
Discover a Buddhist teaching that helps you quiet unhelpful thoughts. Learn 3 types of simple yet powerful cognitive defusion techniques you can start putting into practice straight away.
10 Grounding Exercises for Mental Wellbeing
Learn 10 effective grounding exercises helpful for many types of distressing situations.
Part Two: Cultivating Gratitude
Gratitude Quotes
Discover our favourite quotes to inspire gratitude. Make a note of your favourite gratitude quotes.
66 Gratitude Prompts
Discover 66 prompts to help you develop and sustain your gratitude journaling practice.
Gratitude Journal
A gratitude journaling worksheet for you to print and reuse as many times as you like.
Gratitude Log
Practice gratitude using this 'I'm grateful for..' wheel style worksheet – perfect for a one month of gratitude challenge.
Part Three: Cultivating Self-Compassion
Self-Compassion Inspiration
8 quotes to inspire and empower you to cultivate your self-compassion skills
The NICE Technique for Self-Kindness
Discover a free online test to assess how self-compassionate you are.
Learn Dr Kristin Neff's three elements of self-compassion skills and how you can develop them.
Part Four: Cultivating Values-Based Living
Exploring My Values
Discover 5 powerful self-reflective questions and 2 exercises to help you clarify your personal values and life purpose.
My Core Values
Explore your core values. Plan how you can cultivate values-based living.
Part Five: Becoming My Best Possible Self
Current Life Reflection
Review your life areas and decide which are your top priorities for improving.
Getting Unstuck Inspiration
Discover 11 ideas for actions you could take to help you clarify your life direction and get unstuck.
6 Common Types of Limiting Beliefs
Learn whether you hold any of these 6 types of limiting beliefs. Learn how to reframe a limiting belief into an empowering mindset.
My Best Possible Self Exercise
Discover the exercise that can help you improve your wellbeing and sense of optimism in just 4 weeks.
Making It Happen
Plan your small actions steps to becoming your best possible self. Make change happen!
All our tools also come with additional online resources to help you along the way!
Delivery
A digital download link for The Happiness and Mindful Living Planner (28-page PDF) will be emailed to you immediately after purchase.


---
Looking for Worksheets for Professional Use?
This product listing is for personal use only.
If you're a mental health professional or coach, check out our
Therapy and Coaching Worksheets Bundle Offer
.
Coming from an organisation or school? Our other commercial use licenses can be found
here
.
---
Best Value
Invest in your wellbeing with the full package



---
Other Self-Help Workbooks