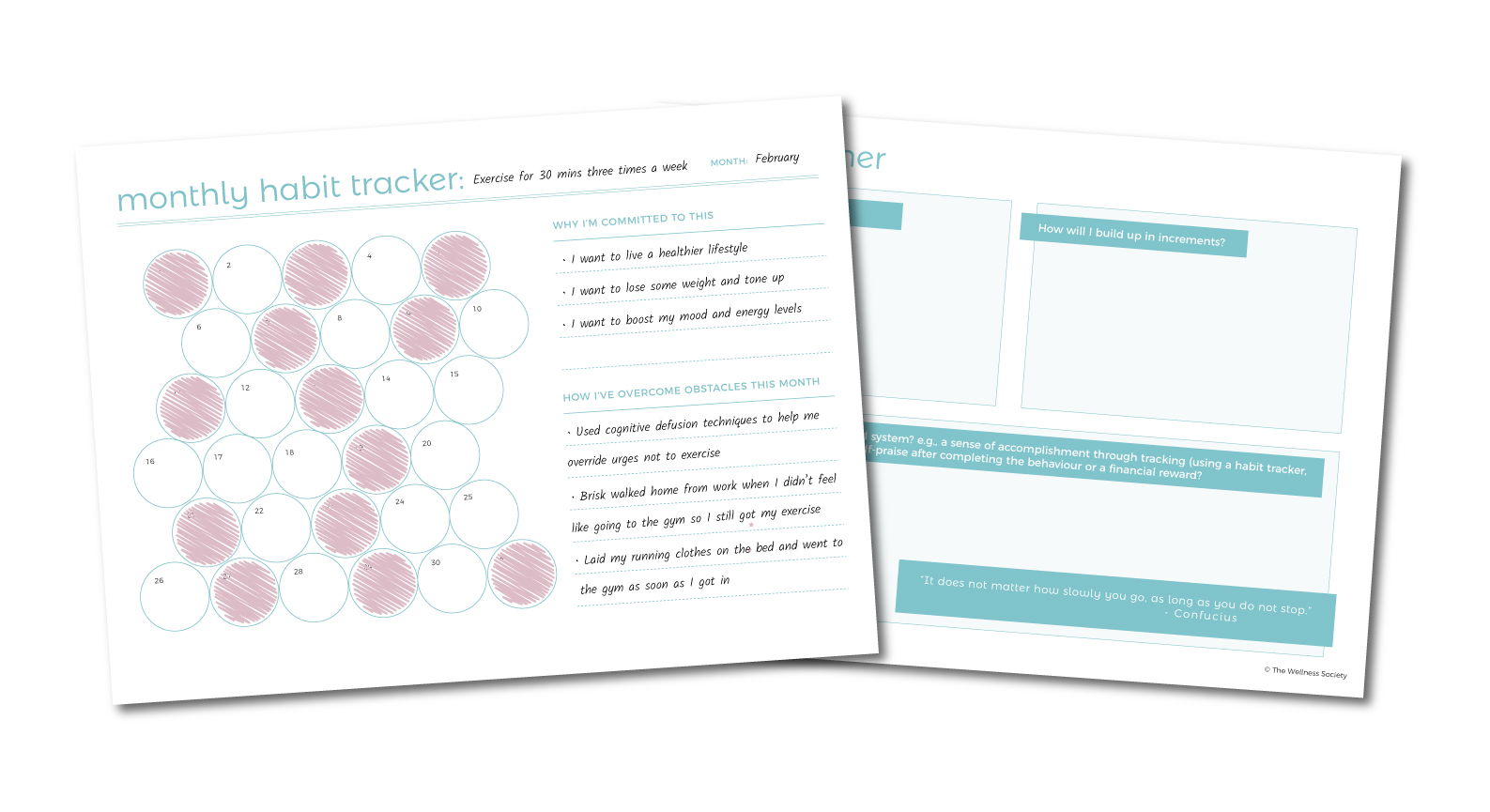 Are you struggling to build habits that stick?

As world-renowned habits expert James Clear says, "If you're having trouble changing your habits, the problem isn't you. The problem is your system."

The Habit Tracker and Planner uses a science-based system to help you create new habits.

It's time to officially begin your journey to a healthier, happier you.

Master the art of behaviour change and transform your life for good!


Contents
Healthy Habits Inspiration
Discover our 7 top suggestions for healthy habits and the exact timeframes to see real positive change.
Habits to Cultivate and Cultivated Habits Log
Plan the habits you'll build and remember how far you've come.
The New Habit Framework
Discover and apply the 4 science-based steps of long-lasting behaviour change.
Monthly Habit Tracker
Tracking habits is key to success. Choose from two different habit tracker designs.
66 Day Habit Tracker
Research suggests it takes an average of 66 days to build a new habit. Use this tracker to build habits that stick.
Weekly Habit Tracker
A helpful tracker to help you complete our suggested challenges in Healthy Habits Inspiration.
Weekly Food Log
Research shows keeping a food diary is a 'keystone habit' – a habit that triggers widespread positive change.
(A study by the National Institute of Health found that people who kept a food log doubled their weight loss and were more likely to build other habits such as meal planning, compared to those who didn't.)
Weekly Meal Planner
Plan your breakfasts, lunches, dinners, and snacks for the week.
My Favourite Meals Log
Keep on top of your best meals with this handy log!
Exercise Planner
Clarify your exercise goals. Plan your exercise schedule. Track your progress. Use your system. And succeed!
Monthly Exercise Stats
Keep track of your progress with this handy log.
Weekly Sleep Tracker
Want to sleep better? Discover the most important sleep habit in the Healthy Habits Inspiration section and track your progress.
All our tools also come with additional online resources to help you along the way!
Delivery
A digital download link for The Habit Tracker and Planner (18-page PDF) will be emailed to you immediately after purchase.


---
Looking for Worksheets for Professional Use?
This product listing is for personal use only.
If you're a mental health professional or coach, check out our
Therapy and Coaching Worksheets Bundle Offer
.
Coming from an organisation or school? Our other commercial use licenses can be found
here
.
---
Best Value
Invest in your wellbeing with the full package



---
Other Self-Help Workbooks