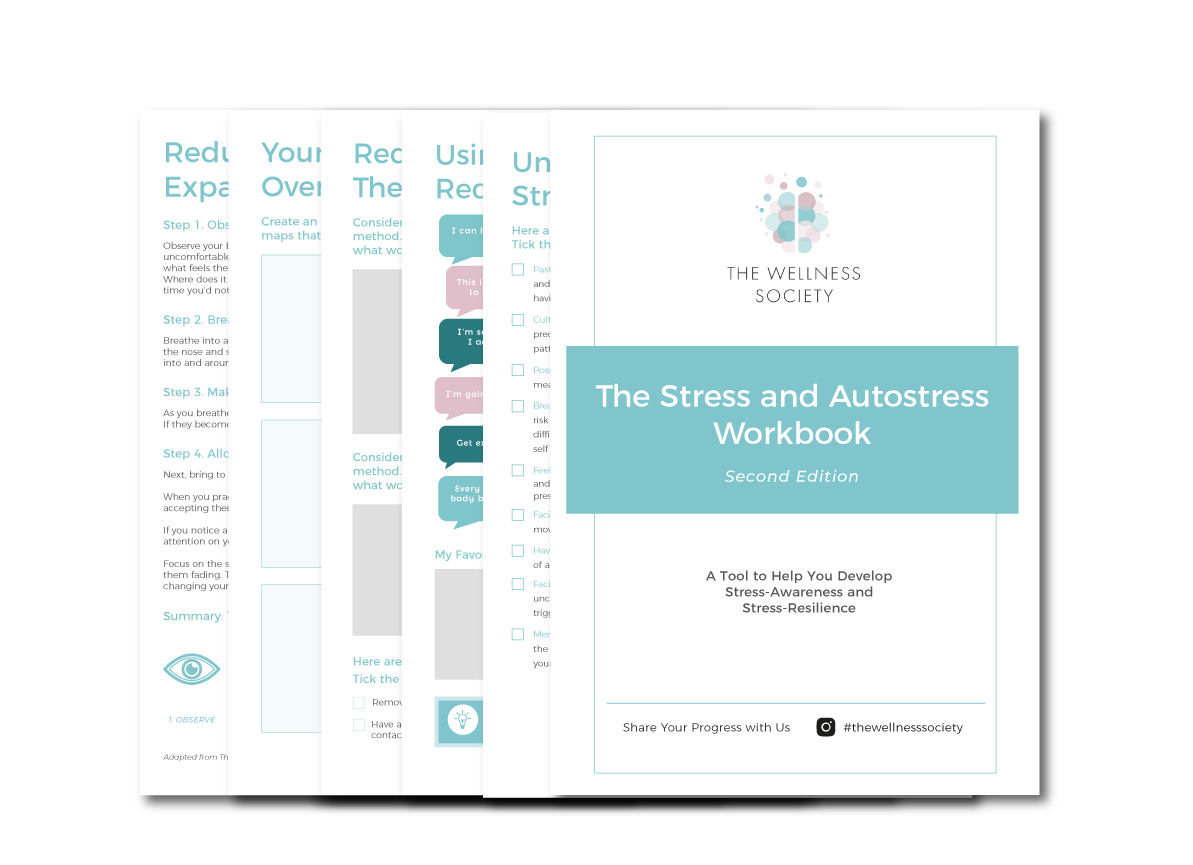 Are you feeling increasingly tense, irritable and exhausted?

Do you want to learn simple but profound techniques for reducing stress, overwhelm and physical anxiety – without the use of drugs?

Invest in your wellbeing today with The Stress and Autostress Workbook (Second Edition).


Become Stress-Resilient
Learn numerous practical tools and techniques to help you manage stress in both the short and long term
Increase Your Stress-Awareness
Develop a deeper understanding of your personal signs and triggers so you can take quicker and more effective action to help yourself feel better
Understand Stress and Anxiety
Discover the latest scientific research and fully understand stress and anxiety. Join our users who describe experiencing 'lightbulb' and 'aha' moments
Save Money and Invest in a Tool for Life
Unlike traditional paperbacks, you can print and reuse our digital tools as many times as you like!
We understand taking action to improve your mental health can be daunting.
But with the right tools, it needn't be that way.
This easy-to-use, practical workbook equips you with a comprehensive set of strategies to help you reduce distressing stress symptoms such as:
Low energy
Headaches
Chest pain and heart palpitations
Digestive issues
Aches, pains and muscle tension
Breathing problems
Insomnia
Panic attacks
Contents
Part One: Developing Stress-Awareness
Understanding Your Stress Response
Review a comprehensive list of signs of stress and clarify the impact stress has on your mind, body and behaviour.
Your Stress Response Overview
Create an overview of your stress response and gain insight into how stress affects you personally.
Understanding Your Stress Triggers
Learn 13 common stress triggers and consider which affect you. Understand the concept of autostress and learn how it can help you understand your mental health.
Key Signs of a Panic Attack
Learn the common signs of panic attacks and how they impact your mind, body and behaviour.
Part Two: Developing Your Stress-Resilience
The Secret to Understanding and Reducing Stress
Learn the latest scientific research on stress. Discover actions you can take to start reducing your stress levels immediately.
10 Key Ways to Transform Your Stress Response
Discover 10 powerful methods for transforming and reducing your stress straight away.
Using Coping Statements to Reduce Stress
Discover 14 effective coping statements for reducing stress. Make a note of your favourite coping statements and use our recommended tool for finding more inspiration.
Reducing Stress Through Expansion
Gain immediate relief from physical anxiety using this 4-step mindfulness-based method.
8 Ways to Invoke the Tend-and-Befriend Response
Discover 8 methods for shifting into the tend-and-befriend stress response – shown to lower your heart rate, blood pressure and cortisol levels.
Breathing Exercises
Understand how stress affects your breathing patterns and how this maintains your stress symptoms. Learn 4 effective breathing techniques and a free tool to practice guided breathing exercises.
Grounding Exercises
Discover 9 mindfulness-based grounding exercises to help you defuse stress in the moment.
7 Ideas for Dealing with Work-Related Stress
Work-related stress is one of the leading causes of stress. Discover 7 ideas for how to tackle this issue.
Reducing Overwhelm with The STOP Technique
Discover this simple but powerful method to help you stop feeling so overwhelmed.
Reducing Overwhelm with The DOD Technique
Learn a practical strategy for defusing overwhelm, getting more organised, and becoming more productive.
Reducing Safety Behaviours
Review 21 common safety behaviours and consider which ones you currently identify with.
Overcoming Avoidance
Consider the ways in which you use avoidance. Decide what you want to challenge yourself to face.
How Stress-Inducing Is Your Media Diet?
Social media and reading the news is associated with poor mental wellbeing. Do this media experiment and understand how your media diet affects you.
4 Steps for Getting Through a Panic Attack
Learn 4 practical steps for defusing a panic attack in the moment. Discover a free tool to guide you through the waves of panic.
How to Calm Autostress
Understand the science behind autostress. Review 19 methods for calming autostress and consider which you'll use.
Mental Health Day Inspiration
Discover tons of inspiration for how to use a mental health day to effectively reduce stress and physical anxiety.
Mental Health Day Planner
Plan your mental health day and reflect on what worked well for you.
Reduce Stress Eating with The LOATS Method
Understand the science behind stress eating. Use this 5-step mindfulness-based method to curb stress eating impulses.
Challenge Inspiration
Discover 8 challenge ideas for reducing stress and autostress.
Challenge Journal
Record challenges and reflect on your key learnings.
Developing Stress-Resilience: My Action Plan
Review your workbook and compile your action plan for effectively reducing stress and autostress.
Developing Stress-Resilience: Celebrating My Small Wins
Small steps lead to big changes! Remember how far you've come on your mental health journey with this log.
Inspirational Quotes
Discover our favourite inspirational quotes and make a note of your own.
Stress Tracker
Track your progress and gain insights with this monthly stress tracker.
All our tools also come with additional online resources to help you along the way!
Delivery
A digital download link for The Stress and Autostress Workbook (38-page PDF) will be emailed to you immediately after purchase.


---
Looking for Worksheets for Professional Use?
This product listing is for personal use only.
If you're a mental health professional or coach, check out our
Therapy and Coaching Worksheets Bundle Offer
.
Coming from an organisation or school? Our other commercial use licenses can be found
here
.
---
Best Value
Invest in your wellbeing with the full package



---
Other Self-Help Workbooks