When it comes to mindsets for happiness, by far the most powerful is The Two Arrows of Happiness mindset. This mindset is inspired by popular Buddhist metaphor, The Two Arrows of Suffering. Buddhists say that any time we experience misfortune, two arrows come our way. The first arrow is the actual bad event, which can, indeed, cause real pain. The second arrow is the suffering, which represents our response to the bad event. This short quote from Buddha sums it up: "pain is inevitable, suffering is optional."

So, what does this have to do with the Two Arrows of Happiness? Well, it's the same principle. Anytime we experience fortune, we have the first arrow: the joy we experience in that moment. To boost our happiness levels, we can intentionally fire the first arrow more often, making an effort to plan more pleasant experiences into our lives.
Second, we can choose to fire the second arrow of happiness which is prolonging and intensifying our experience of joy. We can do this by adopting an attitude of gratitude and practising mindfulness during our experience of happiness and pleasure. It's all about making an effort to be fully present when it's happening, and appreciating it during and after it happens.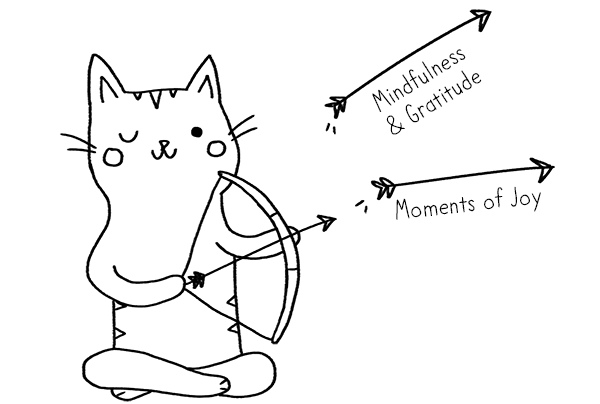 The more we shoot The Two Arrows of Happiness, the happier we become. This is what makes gratitude journaling one of the most effective interventions in the field of positive psychology (the study of happiness). Research shows that people who practise gratitude are more likely to be happier and more optimistic, which studies suggest boosts our immune system.

We can think of positive and negative moods as being like a pair of scales with positive and negative mood states as the weighing substance. The more positive experiences we have, the more positive our overall mood will be. Happiness is a state of mind that becomes a state of brain.
Get The Framework
Fed up of feeling stressed and anxious? Looking for practical, science-based tips, tools and inspiration to help you feel better naturally?
Are you a busy person who'd appreciate a fluff-free, no-nonsense book with just 90 pages and plenty of illustrations to keep you entertained along the way?
If so, The Framework is for you.
You're just one read away from the most in-depth understanding of mental wellbeing you've ever had, and more importantly, the greatest knowledge of what you can do to improve it.